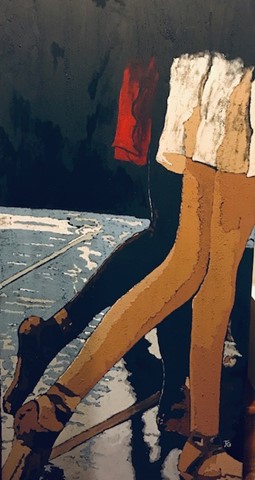 BIO
T.H.Gomillion is a D.C. native who grew up in Coatesville, PA. Mr. Gomillion attended Winston Salem State College in North Carolina on an athletic scholarship, where he earn a bachelors degree. It was during his time at Winston-Salem that he became inspired by the creations of several black artists.
After graduating, he began teaching and coaching sports in Washington, DC., which forced Mr. Gomillion's artistic aspirations to take a back seat, but he eventually followed his true passion for art by enrolling at Trinity college in D.C. and earning a graduate degree.
Since 1989, he has diligently pursued his own artistic vision, but he always imagined himself embarking on more than one creative path and ultimately created a compelling body of work via several media outlets. Gomillion has been exhibiting in galleries and festivals up and down the East Coast and his work depicts the complications of life through a combination of colors, textures, and images. In his collection, Gomillion simplifies and stylizes his images by focusing on gestures rather than details. Although his artwork is slowly transforming, the need to portray the human condition remains constant.